Sound Advice Theory and Ear Training
Integration of Theory and Aural Skills
Each lesson in the Sound Advice program continuously relates musical sounds to their symbols by integrating written and aural theory. Theory, ear training, and sight-reading are integrated to develop music literacy. Numerous dictation, playback, and sight-singing exercises are included to address intervals, scales, chords, rhythms, melodies, cadences, chord progressions, melody writing, improvisation and musical style.
"Solving the Puzzle
with Sound Advice"
Organization
Each of the twenty-four lessons in the workbook consists of the following:
The Learning Guide introduces new concepts
The Theory Worksheet provides practice and review for new and previously learned concepts
The Ear-Training Worksheet reinforces concepts and builds strong aural skills
The Ear-Training Answer Key is included so that students can check their own work while the sound is fresh in their minds. Theory Answer Keys are available for teachers who would like their students to be able to check their own work.
THE PURCHASE OF EACH BOOK INCLUDES OVER 140 AUDIO TRACKS!
While the Sound Advice series can be used to help prepare students for the theory and ear-training components of several major examination systems, the ultimate goal of Sound Advice is to help students become musically literate, to have a better understanding of how music "works" and to develop a deeper appreciation for music that will last a lifetime!
VISIT THE LISTENING ROOM TO TRY A LESSON FOR EVERY LEVEL
Ordering Books?
Click on the store logos to order your books online, or visit your local music store. You can also fill out the contact form located at the bottom of the home page. (Be sure to ask for second editions in order to access sound files and to prepare for current examinations).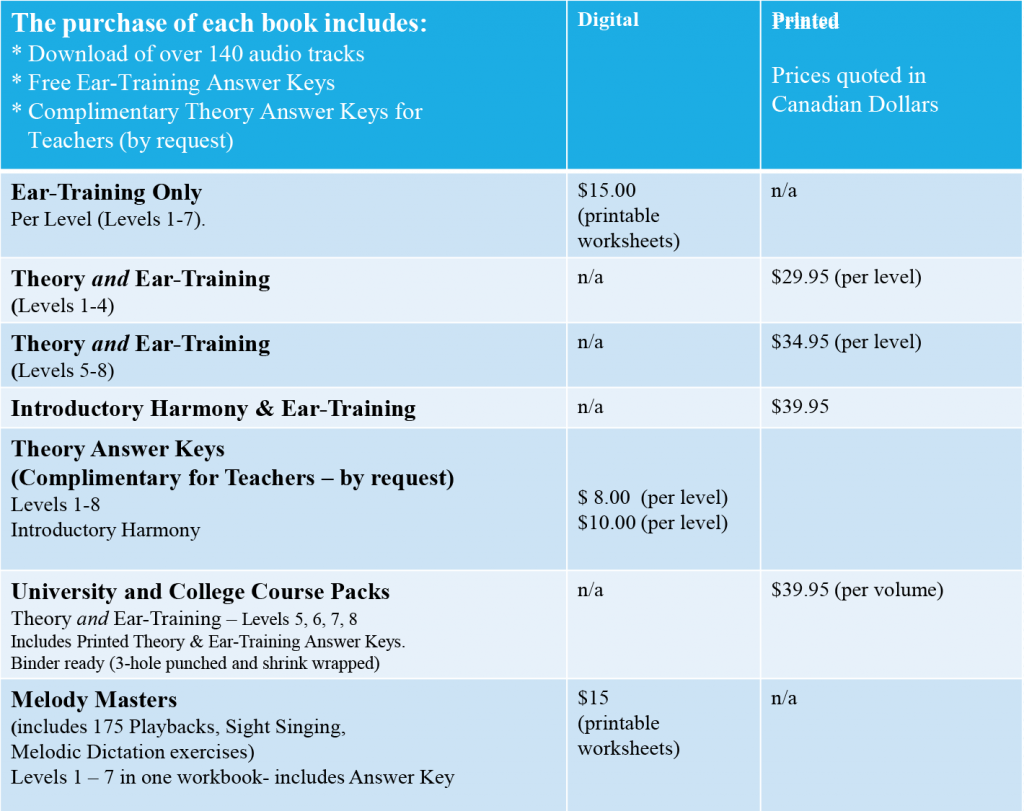 Already purchased your book or course pack? Then order your matching "Second Edition" sound files below.
Please send us the following information. You will receive a link for your sound files within 24 hours.